JOYCE DIDONATO : THE DAZZLE !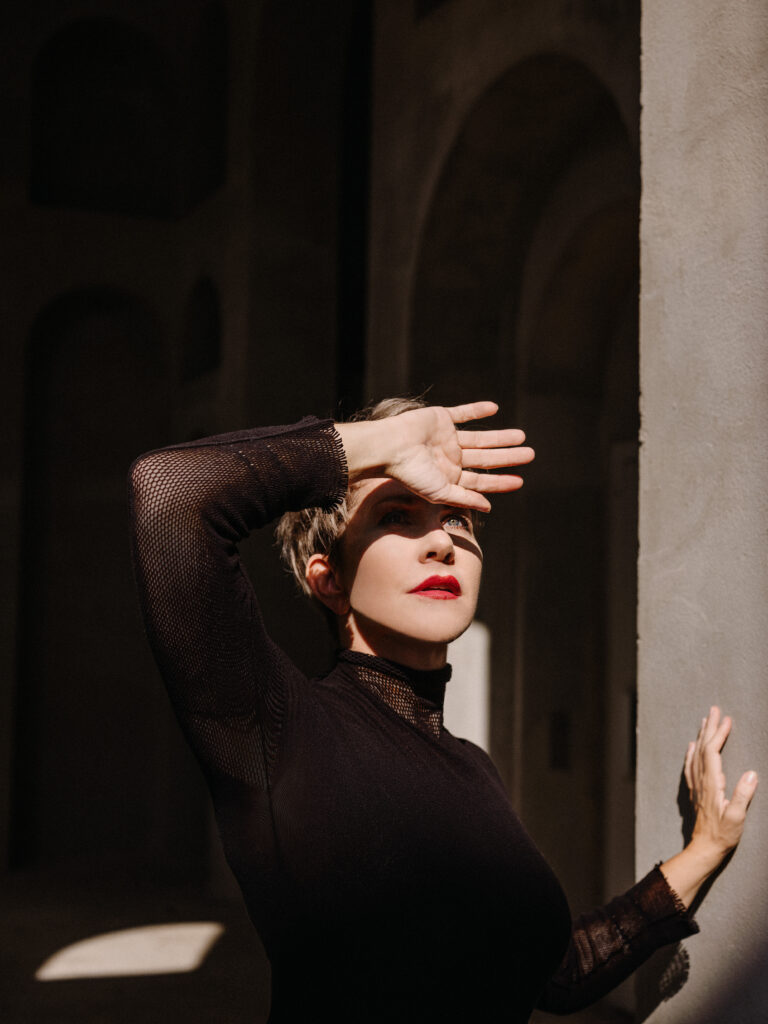 Between Paris and Joyce DiDonato, it's a love affair: the audience of the TCE has just given a triumph to her show Eden, with which the American mezzo is touring the world (and which we report on here). On this occasion, the singer agreed to answer our questions…
A meeting with the one who will very soon record CARMEN in Strasbourg, alongside her accomplices John Nelson and Michael Spyres!
Nicolas MATHIEU : How did you come to opera, Joyce DiDonato ?
Joyce DIDONATO : I think my entire life was building towards this moment – from early experiences singing in my Father's church choir, to school chorales, musicals, and then studying to be a music teacher – each step along the way brought me further into the world of music and the stage. When I found opera, it felt as if it was the accumulation of everything I had been learning: musicality, physicality, drama, psychology, human connection, spirituality, and something much bigger than myself. I'm still finding my way within the immense world of exploration. 
N.M. : What do you remember from your years of apprenticeship, notably at the Academy of Vocal Arts, the Santa Fe Opera's Apprentice Singer program, the Houston Grand Opera's young artist program or the San Francisco Opera's Merola Opera Program ? Is there any particular advice that marked you and that you still pay attention to today?
J. DD : One important piece of advice was to know the score better than the conductor when you arrive for rehearsal: that instilled in me the reality that I am a musician first, and my job is to be completely prepared. The other was from the wonderful stage director, Leonard Foglia, who told me that « there are only 2 things that exist on stage: that which is true, and that which is false. » It dawned on me that if something is 98% true – at the core it is still somehow false. So that has always inspired me to be sure every word and note that I proclaim needs to be profoundly based in truth – and I need to be sure that I am keeping my ego, and my « self » out of the way so that the character, the emotion, and the music arrive unimpeded to the listener.
N.M. : Which operatic figures have accompanied you during your apprenticeship and continue to accompany you today?
J. DD : My first impulse is that the composers Mozart and Handel have been the constants in my career – as inspiration, as « teachers », and as companions. Singing is such an intimate act, and to be breathing life into the notes and rhythms and textures that these masters scribbled on to the page is quite an extraordinary relationship. 
N.M. : We can find several videos of you giving master classes, with an amazing involvement and enthusiasm.  What appeals to you about working with novice choreographers? Have you yourself met people who were important in your training and in the development of your career? 
J. DD : My entire life has been peppered with mentors and teachers – and I continue to seek them out for my life, even more than my singing. But as a teacher, or guide, myself, I take very seriously the responsibility of helping unlock an artist so they can find more and more within themselves that connects them to the music, and to allow more and more of it to flow to the audience.
N.M. : You have just recently given the French public a very moving interpretation of Berlioz's Cleopatra at La Côte Saint-André. Where do you get your affinity with the French language, culture and style?
J. DD : I think it's a work in progress, of course, but I have great respect for the French language and music (Berlioz being a constant in my career, as well!), and I find the purity and refinement required keeps me quite honest as a singer. I think composers like Berlioz, Bizet, Massenet all carried a particular love of the mezzo voice, and so I enjoy very much to plunge into these incredible and complex roles. 
© Salva López
Berlioz : Les Troyens – « Adieu, Fière Cité »
N.M. : You already have Dido, Marguerite, Charlotte, Béatrice in your repertoire… Is Carmen a possible role for you in the near future?
J. DD : She is not only possible – but soon will be a reality! I'll be reuniting with our wonderful « Berlioz Family » of John Nelson, Michael Spyres, and the Strasbourg Philharmonie for concerts and a recording with Warners/Erato this spring. I cannot wait to get to know her! 
 N.M. : You do not hesitate to take a clear stand for certain humanist causes that are close to your heart: you have led actions in prisons, you militate in favor of women's rights, LGBT rights, against racism, for education… Where do you find the time and energy to lead all these actions? 
J. DD : Ah, this actually keeps me up at night. There are so many things to support at this moment in time: children, women, the poor, the discounted, the ones left behind. I don't feel I have enough time or energy. But I do what I can, for the moment never abandoning my « day job » which I am very passionate about and love deeply (and, ironically, which often addresses so many of these questions of equality and humanity). I know it sounds trite or like an Instagram Meme, but I truly feel so strongly that it's precisely the moment in time to reach down and find out how to love each other a bit more strongly. I find the music can be a great leader in this effort.
N.M. : Regarding the recordings, after « In War and Peace », a hymn to peace against violence, you have recorded a new CD, « Eden », about our planet in peril. Is it important for you that an artist is not cut off from the reality of the world and puts his art and his person at the service of such causes? What motivates you in this approach? How did you conceive this program?
J. DD : The great composers of the past centuries have consistently been inspired by nature and our human frailty alongside it. This was my inspiration, as I've always turned to music for guidance and comfort, for inspiration and some kind of answers, when answers didn't seem to arrive from anywhere else. As I see the disconnect around me, and of course the planet in peril – as you say – it seemed like a perfect place to put my energy. I want to remind people of how extraordinary nature is, how powerful it is when we align with it, and how this is a good moment to think of how we are interacting with it. The great joy of this project – aside from the incredible journey of the music itself, is the opportunity of working with young people in every city we visit (so far over 700 children and counting!). We are giving them workshops to look at their local world and see how they can contribute to making it stronger, more aligned with the natural world around them – and then they join me on stage to sing about the power of sowing seeds – both physically and those that give hope. It has been transformative in every way!
For our review of the EDEN show, click here!
Pour la version française de l'interview, cliquez sur le drapeau !